Introduction
Weaving lauhala can be a wonderfully rewarding hobby. And itʻs easy to lose yourself while immersed in the weaving process. Which is why itʻs necessary to take some time to think about weaving posture and exercises which can help you to avoid back, shoulder and neck pain.
Letʻs first look my work station and some of the simple devices which have helped me to see the work more clearly AND have good posture while weaving.
Next I suggest links to several websites which have good suggestions about posture and exercises.
My Weaving Station and Devices
My basic work station is a small folding coffee table with a flexible lamp attached to it. There is a comfortable padded chair with a lumbar support cushion. On the floor is a pillow to rest my feet on. The flexible lamp is clamped to the outer right corner of the table. The arms of the lamp are long enough so that I can have the light shining on the work from the direction of my right shoulder. An additional small folding table holds tools and materials.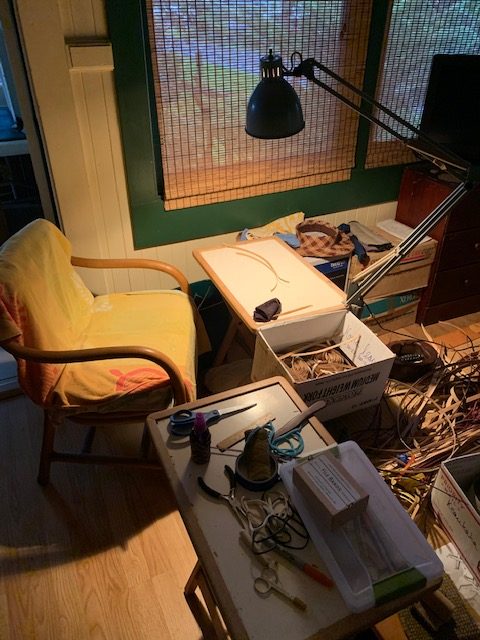 Figure 1. Showing two folding coffee tables, chair and lamp
An important addition to the work station is the work board. The base of my work board is a large plastic cutting board ( ~ 12″ x 16″ ). A piece of 3/8″ – 1/2″ plywood might also work as well.
The lower edge of the work board has a fitted foam plastic tube which could be either a pool noodle or a hot water pipe insulator. This attachment allows me to rest the bottom edge of the board on my lap comfortably. When in use the back of the work board rests against the front edge of the folding table which can be moved forward or back to adjust work board angle.
| | |
| --- | --- |
| Figure 2 A. Back of work board with foam rest and binder clips | Figure 2 B. Front of work board with towel cover and inserted shape |
The entire board is covered with a towel held in place with four binder clips. Using clips lets the user put different shapes underneath the towel so that the work can be tilted farther up or kept from moving side to side. Usually I use pieces of towel folded or rolled to get the shapes I need.
When weaving, I try to sit straight up and bring the work to myself rather than bend over and go to the work. There is a timer set for 30 minute intervals. When it goes off, itʻs a reminder to get up, do some of the simple stretching exercises shown in the websites and videos and find some other project not involving sitting for a few minutes.
Also as a result of attending classes at our nearby Senior Center, I do about 30 minutes worth of warm up, stretching, balancing and light weights exercises every day. This results in feeling better, some weight loss and almost never any back pain.
Links to Websites with Useful Suggestions for Posture and Exercises
It seems to me that folks who sew often have postures similar to those who weave lauhala. And as a result there are similar problems with back, shoulder and neck pain. The following websites offer useful advice regarding posture and exercises which I sometimes use myself.
American Patchwork and Quilting – Prevent Neck and Back Pain While Sewing – Blog suggestions
Bridget OʻFlaherty – Thread Painted Art – A simple stretch-self-care routine can help keep your body happy and you sewing longer
Quilting Board – More Useful Blog Responses from Readers

Unsurprisingly there are also some useful YouTube videos which folks have made. Yes, theyʻre about sewing, but I suggest that theyʻre applicable to weaving as well.
Sew Fashion with NiaImagination
Hollyanne Knight at String and Story