My Boat
The How's and Why's of the Way It Is…
In 1997 I built an 18′ outboard boat using the OB18 plan set from Jacques Mertens-Goosens, Vero Beach, Florida. The boat is constructed of 3/8″ plywood with triple overlaps of 6″ wide bi-axial Fiberglass woven roving on each seam, inside and out. A layer of 9 oz. Fiberglass on the outside provides additional protection. The transom well is foam filled as is the (nominally) flush deck. This makes for a light, stiff boat that's easily driven. The boat is in a more or less constant state of change as new fishing approaches come on the scene. Basically I treat it as a work boat.
At first I ran it without any cover, but Hawaii's sunshine is pretty intense so I put a small bimini on it. The boat's name is Uouo'a (pronounced "wo-wo") which is the Hawaiian name for a small mullet that lives in rough waters along the shore line.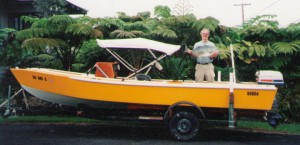 Initially I drove the boat with a 25 HP Evinrude 2-stroke outboard, then with a 30 HP Honda 4-stroke (wonderful engine!). Most recently I have switched to a pair of 15 HP Mercury 4-stroke engines.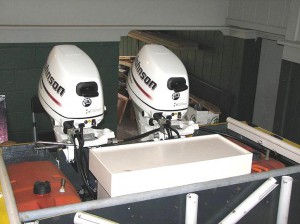 The above shot shows the older two engines, two fuel tanks (6 gallons each) and a white battery box containing a separate battery for starting each engine. There is a Racor S-3240 fuel filter on each fuel line and both fuel lines reach both engines. Engines are also pull start. Better a little conservative than not getting home…
Later on I put a cabin on to replace the little bimini since I really needed to be able to escape the sun in the day time, run away from the pocket rain showers and also stay a little warmer at night. The front windshields are safety glass and the sides Plexiglas. Both are coated inside with Gila 70% Heat Control Window Film. This stuff makes a huge difference with respect to glare coming off the water and heat coming into the cabin. It also doesn't seem to interfere with night vision as long as the outside of the surfaces have been treated with Rain-X or something similar so that seawater droplets don't build up.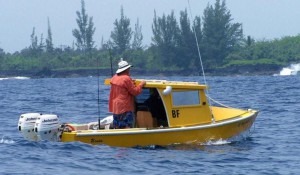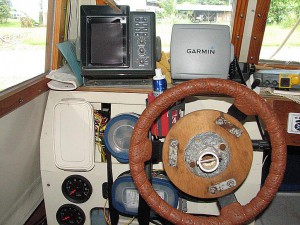 For electronics I have a Radio Shack TRC-442 CB radio (and always carry a fully charged cell phone as well), a Furuno FCV-667 color depth recorder/fish finder, a Garmin 525 GPS with the additional memory chip, a RayMarine Sportpilot autopilot (very handy for putting out lures during trolling and while bringing in larger fish) and a radio/CD player. There is also a white/red ceiling light for day/night usage as well as standard white and red/green running lights and a plug receptacle for the night light for night fishing.
All my switch boxes and fuse holders are made from Tupperware containers bolted to the dashboard and having simple through fittings through the sides or back. These are shown to the left of the steering wheel.
The driver's seat is home made from 1/2″ plywood with a 15 degree tilt back support angle. It sits on a 12″ lazy Susan from Ace hardware that in turn screws onto a sliding U-shaped board that moves laterally supported by thwarts. The seat rotation capability makes it much easier for me to get into and out of the small cabin.
The pair of thwarts that supports the seat also supplies storage for the deep cycle battery for the electronics, a green-colored bottom fishing gear container, a milk crate containing the emergency anchor and line and assorted other small gear as well as a second sliding seat.
My friend Scott Henderson suggested a T-shaped configuration for the inside of the boat wherein a U-shaped set of boards connects at right angles to the mid-ship thwarts. The inside width fits a 48 quart cooler, a small lure box and my $4.95 Wal-Mart resin fighting chair. This means that the T-configuration makes a U shaped corridor with the bottom of the U adjacent to the transom wall. This shape make it very easy for me to bring in a large fish into the bottom of the U and control it well. And were I to need to "run away" there are two escape corridors going forward. You can see 6 of the lightweight PVC rod holders in place. Also shown is the inflatable life vest attached to a safety line which I always wear when fishing alone.
The resin chair is light, maneuverable and cheap to replace. When I'm bringing in a larger fish, I can place my feet on the upper edge of the transom wall in comfort and still have the rod base in the gimbaled rod holder. Shown above the chair is my home made oblong, shallow dip net. It's very easy to both catch with and remove fish from this net. Split PVC pipe covers wood edges so that hand lines don't saw into them.
I like PVC as a flexible, tough and inexpensive way to make bumpers, edge guards and lightweight rod holders. There are six standard rod holders (three on each side) and 11 (!) lightweight PVC rod holders.