Power Line Road Trail
There is a pull-off on the South side of the road (PLRENTER) marked with a small, brown DOFAW sign near the pull-off. A gravel road heading East leads to a parking area near a locked gate, the trail head.
The main road turnoff has good road visibility only in the eastern (toward Hilo) direction . A small rise and turn partially obscure the road in the western (toward Kona) direction plus the pull-out onto the highway is slightly steep and graveled.
Clouds and rain can appear very quickly in this location rapidly obscuring visibility; cars and motorcycles travel very quickly on this road. Please use great caution when pulling onto the road.
I would call the Power Line Road Trail a mixed cobble and pahoehoe trail. This means that there are many sections of the road which were filled with egg-to-breadloaf sized rocks during the road construction. The cobble sections are very hard on the feet if the hiker is wearing flexible soled shoes such as jogging shoes. I recommend harder soled shoes for greater comfort.
The road goes through several ohia woods where oma'o are commonly heard and linnets (house finches) and amakihi usually seen. If there are lehua blossoms, apapane and i'iwi are also often present. There are also kipuka to the East and West of the road which contain koa trees and sometimes hapu'u as well as other native plants. Caution should be observed when going off the trail as noted in the DLNR brochure.
Nature photographer Jack Jeffrey suggests that the best endangered bird watching is somewhat far (to me) in: "There's good birding along the road in any of the forest areas but the best area for the endangered is several kipuka about 3 miles walk (1.5 hours) down the gravel road. About 3 miles in on the road (you can tell if you've gone too far if you come across the large 1985 a'a lava flow) the road enters a kipuka that contains lots of koa trees. This is a good area for akiapola'au, Hawaii creeper, Hawaii akepa and I'o (Hawaiian hawk). Just before you enter this kipuka, on the right (west) side about 500 feet is another beautiful, large koa/ohia kipuka also good for birding. Walk across the pahoehoe lava to the kipuka (taking care not to step on any plants) or through it. All the common native forest birds are found here as well as the 4 endangered forest birds. Nene (Hawaiian goose) nest in the area and can occasionally be seen flying over."
Power Line Road Trail Topographic Map
Power Line Road GPS Data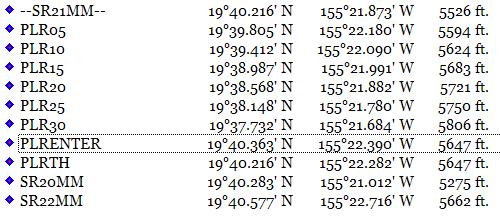 Power Line Road Elevation Data