Kaumana Trail
This is a nice, fairly short walk (less than two miles) and even easier if the hikers are dropped off at the upper end and picked up at the bottom. Visibility for getting on and off the trail head parking area is acceptable for both upper and lower entrances. The trail head DOFAW signs are obscured at the upper end (~19.75 mile marker) by a tree and at the lower end (~ 18.4 mile marker) during hunting season by pickup trucks backed into the trail head entrance. Sigh…
Beginning from the lower entrance, the trail begins some 50 feet in from the edge of the parking lot. Surprisingly there are no trail markers or directions at the trailhead. The trail at that point and for most of the trail is over pahoehoe, much like portions of the Pu'u O'o trail. About 40-50′ from the sign, simply go up slope since that's where the trail *has* to be and within a few hundred feet it will become more noticeable. The first ~half of the trail is like Power Line Road in that there are sections filled with broken rock which make walking with soft soled shoes unpleasant.
The trail mostly goes through 6-12′ high ohia on pahoehoe with kipukas 50-200 yards away. This changes about a mile in when the trail actually abuts a kipuka. There were several trails leading into this kipuka, with numerous orange plastic wraps left by hunters. In the center of the kipuka is a somewhat open section filled with large hapu'u (giant tree ferns). There are many trails of sorts among the hapu'u left by pigs, etc. I've now been in several kipuka that have a central depression filled with hapu'u which is then surrounded by assorted understory and large ohia and finally ringed with large pukiawe and small ohia. I wonder if there is some sort of plant progression sequence that forms these communities?
This really is the time of year (August) for ohelo berries I must say. There are many oma'o calls and a few amakihi tweets. I think I actually also saw a Hawaiian creeper on several lehua blossoms. Other than that, a relatively bird-free zone.
The safest approach for walking back to the car from the upper trail head entrance is by using the gravel road under the power lines on the North side of the road rather than Saddle Road itself, especially if the weather is foggy. It turns out that the power line access road has entrances to it every 1/4 mile or so to Saddle Road and one of them is only a 100 yards from the lower Kaumana Trail trailhead.
Kaumana Trail Topographic Map
Kaumana Trail GPS Data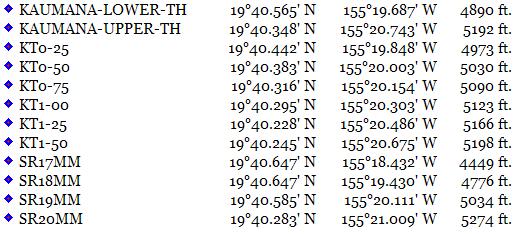 Kaumana Trail Elevation Data