"Kipuka 21"
 "Kipuka 21" appears to be a work in progress by the DOFAW (Department of Fish and Wildlife) staff. There is now a sign showing the turn off to an often gated parking lot. No problem since a smaller lot immediately to the right of the gate provides sufficient safe parking. Clouds and rain can appear very quickly in this location rapidly obscuring visibility; cars and motorcycles travel very quickly on this road. Please use great caution when pulling onto the road.
Here is a romantic shot of the Port-A-Potty at Kipuka 21 from the inaccessible parking lot:
There is a loop trail within the kipuka with gated access near the trail head. At this time (for several years), a sign on the entrance gate notes that the trail is being repaired. When it is eventually opened the loop trail is easy walking and goes through several types of plant regimes. Oma'o are common, and red-billed leiothrix are also usually heard and seen.
From my limited experience, walking along a gravel road between the fence and the main road is a very good alternative birding approach if the loop trail doesn't work out. At several locations the road is only 15-20′ below the canopy, allowing both mid-story and canopy viewing of apapane, i'iwi and elepaio which I have seen on nearly every visit. Amakihi are in the mid-story and the ohia scrub on both sides of the road as well.
Well-known nature photographer Jack Jeffrey offers the following advice: From the western end of the kipuka where there is a gravel turnoff on the North side of the road."Walk down the access road to the East, parallel to the highway, about 250 feet. A small koa tree is situated on the left at the base of a steep part of the dirt road. Take the trail on the East side of the tree that leads into the forest about 50 feet. Stand at the edge of the drop-off looking into the mid-canopy. Watch for oma'o, elepaio and the common native red birds in this area. Occasionally, the endangered Hawaii creeper is seen here feeding along the trunks of trees. This kipuka has been disturbed by feral pigs in the past, leaving the understory and ground cover somewhat unnatural, but made up of mostly native plants. At your feet you should find an uncommon native mintless mint, Stenogyne calamenthoides, one of 47 endemic species of mintless mints found in Hawaii."
Kipuka 21 Location Topographic Map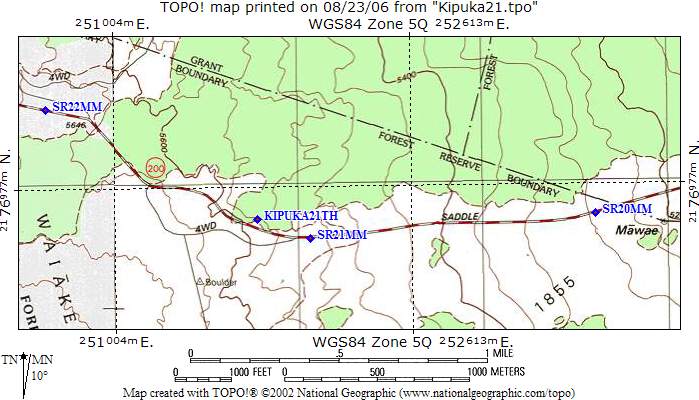 Kipuka 21 GPS Data