Trip Reports
 The good, the bad…
With the hope that readers might be amused and interested by some of the excursions that I (alone) and I with friends take, I include the following trip reports sent to my friends Sherman, Scott, Tracy and others…
January 13, 2005 – Thursday AM – Today was supposed to be optimal weather with west winds and calm seas. Forecast correct. I left the house (with all reels) at 5:30 AM and talked briefly with Gary Tsui (akule fisherman) who validated the water conditions. Talked with another commercial guy about G buoy who said there were porpoises there. Headed out at first light (whales around, need to be able to see them) and made it to G buoy (Pepeekeo Buoy) by or a little before 7. Saw a boat heading in when I was a mile away – must have spent the night. There are small bird piles scattered around with 1-2# ahi jumping out of the water. I'm once more alone at the buoy. The beginning of a lovely day?
First pass at G buoy – three hookups with two of them larger than the remaining one. I'm using the small Shimano reels and light poles which bent double. As soon as I hook up, about 6 porpoises show up and head for the boat. In five minutes I pulled in three heads…8( Another pass, same thing – my head collection is growing. I'm ready to shoot Flipper.
At this point, I begin to increase the radius of my trolling away from the buoy because there are schools of birds widely scattered over a several mile radius from the buoy. I'm now down to two reels with the drag on full so that when I hook up, the fish don't run very far. When I'm about a half mile from the buoy, I get another hook up and basically try to rip the fish out of the water before the porpoises show up. Success! A 12# ahi. At least at this point I have dinner. The lures are like the ones we used last time and caught the mahimahi with.
I circle some more and catch two more ahi without porpoise interference. I see birds about a mile to the north and wander up there. The bird pile included matori, sooty terns, a booby and some other type of tern that was black-backed but had a white tummy. At a distance, these birds flashed when they turned. A lovely sight to see. Back and forth through the school and get an 8# aku. Time to go home because I've run out of ice. I make one more pass past the buoy, waving to an older Hawaiian man who's hand-lining nearby and about 50′ past him get another pair of hookups. Both come in without interference. Two more 10-12# ahi. The porpoises must have found another playground.
Really time to go home. Pull lures out of the water and head that way. I see the porpoise school about 2 miles from the buoy. Then near the 50 fathom drop-off I see a whale tail. Nice. Time for Elaine to order motion sickness medicine. I need ice and end up buying a cooler full from Suisan ($4). We should consider doing this regularly. My boat looks pretty small, moored next to the 45′ commercial boat filling with hose ice, but that's ok. He's going out and I've already had my fun. Docking proves difficult today. Why, I don't know. Tired? It takes three passes, one of which leaves my gaff hanging on the protective carpet…8(. I give one of the ahi to a friend of mine, an older former fisherman who's always been friendly to me, then head for home. Arrive at home by 11:15 AM. An early day.
January 21, 2005 – Friday AM, Today was a Hilo side Kona water day. Catch was essentially the same as the last report, but there were interesting variations. Got out to G buoy by 7 AM but couldn't seem to locate it. Found another boat nearby to ask them if they'd seen it and the vaguely pointed toward the Big Island. Mahalo's to morons, yeah? Went back again this time upwind and with the sun to my back*** and found it between two other G buoy positions. There were a few scattered bird piles, mostly with noddies (the small all brown/black "aku" bird), but birds mean something, right? Fine den'. I drive around a little while and pick up a couple of small aku and one rat (small ahi). Then many more small ahi which I release. Time for jigging.
I go near the buoy and start jigging but having misjudged the current, need to reposition the boat a couple of times to keep from drifting into the buoy…8( Soon, the ten-second rule comes into play. I boat one rat and break several leaders because the spinner tension is a little too high. All the time I'm getting hits from jigging, there really aren't a lot of birds around, but the rats are dispersed over a large area. I drift nearly a half mile from the buoy before I need to go back and start over. The boat I ask for advice shows up and tries trolling for ~30 minutes then begins to palu/jig. SOP for local fishermen. Sometimes it works but today after ~ an hour they leave. I'm still hooked up or boating rats. Another boat shows up, this time a very spiffy sports fisherman with outriggers, etc. The whole smutz. They drive close to the buoy, far from the buoy, back and forth but I think finally, no dicey. After an hour, they leave. A little while later, with five rats and diminishing ice, I head for Suisan and more ice then home by a little after 11 AM.
What I'm trying to suggest to you as a possible future boat owner, is that limited catch strategies have (obviously) their limitations. When you get to the buoy, use the depth recorder and even if you don't see a lot, a few is all you need. You were asking about lures. Today, all anyone wanted was the "Gay Bob" colors for trolling. Last week's favorites are today's losers, but the color differences aren't that great. It could have been the lure head rather than the colors.
More about lures. I really think that a jigging setup is extremely important to have in your arsenal. I honestly believe that I've caught nearly a ton of fish by jigging since I started a year or two ago. And it often happened when trolling was zippo. Perhaps what I'm saying is that some degree of flexibility is appropriate when you head out. If trolling works, troll. But if you're near a buoy, try jigging! Incidentally, it's thought that the influence of a buoy extends out nearly four and a half miles from the buoy itself. Wow
April 9, 2005 – Saturday AM – I went out this morning to test the waters. The forecast was for light winds (true) and fairly calm seas (not true). I left the house early because with the construction in the parking lot (and the dismal progress with which construction occurs in Hilo) there are relatively few parking spots. I was able to beat the crowd, perhaps because tomorrow is a tournament, although shortly after I launched 3-4 other boats arrived. In any case I then went to inside the breakwall to organize myself with birds, lures and whatever. After about 15 minutes I was all set and it was now light enough to have some confidence that I could see the lures working and that fish could also do the same.
I turned the corner of the breakwall and began to notice some 2-4′ chop coming in. I think that all last night's rain and such created confused seas over a large area. In any case by the time I had gone another mile or so, the chop was now 4-6'+ and very steep. No wind, but that didn't help much. I made it out to the 50 fathom drop-off and turned toward 6-mile. After about 15 minutes I look back and all three lines are in a woozle. Sigh. Slow the boat and after 20+ minutes everything is back to square one with snap swivels re-tied, etc. Note to Kawika: only two lines when choppy. So now I'm trolling two lines.
Off 6-mile I get an ok hit and as I bring it to the boat, forget everything about bringing the long leader in. No gloves, pole in wrong place, no gaff, etc. I get the fish next to the boat with a handful of leader in my left hand and realize I can't do anything. Fine. I try to let go of the leader but unfortunately have loops of leader around the two middle fingers of my left hand. The 10# ahi wants to run away. It is a couple of bad moments before I can loosen the tension on the leader and release my fingers. One finger slightly cut by the line and the other bruised. Fortunately the leader is relatively large (150# test). If it had been PowerPro the cut would have been to the bone.
I stop for a minute, take a deep breath, put on gloves, move the pole and get a gaff. I didn't do any of this before because I somehow thought the fish was smaller than it was and forgot about being careful with the long leader. Bad judgment. Now fish comes in easily with good head gaff and into the boat. Whango goes the kill stick and into the fish bag with lots of ice. At this point, I decide to troll back to the breakwall and call it quits. Home by 8:30 AM and thankful that nothing worse happened. There were about a dozen trailers in the lot but I saw several other larger and smaller boats heading in as I was. I wonder how tomorrow's tournament will fare?
May 15, 2005 – Sunday – I tried to go fishing the other evening. Got all the night time gear, lights, etc. but when I turned the corner of the breakwall, it was unpleasant. More so than I would have imagined with small whitecaps breaking. I continued on, thinking it would be just this way near the breakwall but alas, no dicey. I did the wise thing and returned to the dock.
So this morning I went once more and although it was a little lumpy at the breakwall again, with no wind to speak of this time, it smoothed out once I was past. My goal at this juncture was several fold: try out the deployment and retrieval of a new (to me) anchor; try a relatively nearby spot for fishing that was ok for drifting; and try to palu with the little film canisters with 1/4″ holes in them. For palu I used canned mackerel and breadcrumbs mashed together into a paper Mache consistency. Not too runny, not too stiff.
Anchor setting and retrieval went fairly well. I used the float method from before for bringing up the anchor and with only a few minor mishaps, it went well. I can show you later if you wish. The spot proved to be…ok. Once the word got out that palu was there, I was inundated by ta'ape but I managed to get a good sized po'ou and a larger purple a'awa. Back at the dock by 9:30 and home by 10. The film canisters worked well, I think. I put a little 1 oz lead at the bottom to help it hang properly. The palu (I added aged squid) wasn't finely ground enough from the squid standpoint and those bits stayed in the canister but everything else went out ok. I think that deeper anchoring would also be more interesting. I was in ~ 80-90′ and with the anchor and line I have we could go to 200-300′ with no problem.
I went to Hakalau buoy last week just to see. Several dozen birds when I got there and 3-4# aku at the surface. Tons of stuff at 100-150′ but it proved to be 1-2# shibi so waste time since I wasn't into live baiting for billfish. A huge cloud of pelagic humu right at the buoy. As Scott would say: "Not one of my target fish". He drove down to Kumukahi the other day and after 7 hours, had a lovely day and one 3-4# aku. Whew!
September 20, 2005 – Tuesday AM – My day began at 3 AM again. Then trying to sleep some more and failing. Then making coffee, turn on the computer, read mail, etc. Down to the shop to think of a way to correct a router accident and back upstairs for breakfast. More internet and a trip to the dump with Helen to dispose of vegetation we never want to see in our yard again. It looked to be a beautiful day. Too nice to stay in the shop. And so I geared up to go out and play for a while. Left the house a little before 8 and into "rush hour traffic". It was almost 8 minutes before I could get to the ramp!
Launched into extremely clear water near the ramp which rapidly degenerated into *very* green/productive water in the bay. I put out the smallest of the new spoon plugger lures. Lots of tight action and appreciable drag for such a small lure. The bigger ones will be FAD only that's for sure. In any case, I headed out toward the Onomea corner where I had earlier caught an ono with Taeko san, my Japanese language teacher. I thought that at least I could do a little trolling in the area and if that were for naught, some jigging. The water slowly changed from Army green to greenish blue as I went out. Then right at the spot where I had earlier encountered an opelu school was a low flying bird pile. Perhaps 50-75 birds were alternately rising 10-20′ above the water and then actually settling on the water to feed on bait of some sort. Since there were no sizeable rises near the birds, I began a slow circle of the school staying about 75-100′ away. About halfway around the circle, my small Shimano "Charter Special" with the 65# PowerPro line and a pearl/root beer skirted slant face/scoop face jet went off. By the time I had cleared the other two lines, the reel was 3/4 empty but the fish had slowed down considerably. Must be an ono. So for me, stage one was finished. Stage two is the persistent bringing in of the fish while steadily increasing boat speed to 4-6 knots. Stage three is when the ono head breaks the surface and stays there. At that point boating is relatively safe and gaffing and kill-sticking went simply. I should note that the hooks used were one of the two that Jardine rejected for his Marauder and were firmly lodged about half-way back on the gill rakers. The ono ended up being 4 1/2′ long and weighed nearly 30# – just the right size for fun and safety. I headed home because who needs more than one ono if you're fishing alone? Home just before 10 AM about 2 hours after heading out. Boat washed, fish cleaned and soup started by 11:30 AM. What's not to like about being back in Hawaii?
September 24, 2005 – Saturday, Went out late (7:30 AM or so) again today just to check out the opelu koa for an hour or so. Only 6-7 trailers at the ramp because no more fish right? Blitzed out past Papaikou antenna before setting lures. Water still bluish green pretty far out. Put out the pearl over rootbeer jet long (no outriggers), Marauder very short on the starboard side and a largish surface runner (purple over silver/black stripes) 25′ in from the jet and a smaller surface runner between the Marauder and the larger surface runner. Got there and no birds, swirls, nothing. Started making circles to find the opelu ball which I was able to after about 10 minutes. Just after passing it, the jet gave a short – zzzzettt but no dicey. Marked that spot and continued my circle. Second time around I got a double on the two surface lures. The water was still murky in this area but fish still have to eat, right? Got both fish in after about 15-20 minutes and they were two ~ 20# ahi. I really wish you had been here to bring them in. In any case, that was enough for today so off to Suisan for more ice and home by 9:30. Take-home messages. Find and work the opelu ball. Murky water still works for fishing as noted in the little booklet I sent you. Hope to see or talk with you before we leave.
November 14, 2005 – Monday, Woke up at 1 AM and being unable to go back to sleep read and fiddled around the shop until 5 AM. This trip I changed the boat configuration by putting a large red container where the cooler usually would be and putting
all the ice in the fish bag to begin with. The red container acted as my "ikema" or baitwell. I left for the ramp and headed straight for Makuu buoy and got there by 6:30 sunrise. There were a dozen or more birds circling so I was hopeful. But it was not to be. I believe there were "rats" at 100-200′ but nothing I did interested them. All the birds were over keokeo schools.
So around 8 AM headed off for bottom fishing at Hawaiian Beaches where we had caught the yellow spot papio before. The first drift yielded small moano and several large (nearly 4#) moana kali. After another couple of drifts I headed farther along shore toward Hawaiian Beaches proper and with relatively few problems put out two drift lines in 200′ of water about 200′ apart. Balloons keeping the bait at ~ 140′ and associated detergent bottles were happily drifting along parallel to shore. As it turned out they maintained a steady parallel to shore attitude for more than an hour and it surely looks to be a good place to give this type of fishing another try.
More onshore to offshore drifting with an assortment of things (weke ula, one yellow spot papio, several taape, more moano and a couple of hage). By this time the two drift buoys had made it nearly to the point and the balloon marker on one of them had disappeared! I cleared the deck, picked up the floaters and wearing the blue gloves began pulling in the rest of the line which I flaked on deck. It was pleasantly resistant and to my surprise resulted in an 18# white ulua. So the system works. Got the fish into the bag and tried to put everything back in the water so I could coil it on the hand line reel but had stepped on the line during the excitement and now had a large wuzzle. Sigh. Remove gloves, deep breath and untangle. Note to self – do not repeat this approach.
Anyway, headed home and saw four commercial/semi commercial boats outside of Keaau Bay busting bag for rats. I stopped briefly to say hello and tried your big Krocodile lure down deep. Please let me say that only the electric reel will work for that baby. Fast retrieve from deep water just about finished me for the day and I was using the big spinning reel. Anyway, I'll look into checking up on the electric reel so that it will be ready for some field trials later on.
February 23, 2006 – Yesterday I went bottom fishing with my friend from Massachusetts, Pat Lohmann. We went out in front of the breakwall more or less opposite from the "Love Boat" mooring in about 80-100′ water. We started with scroungers and caught a few moano and a small uku. Then using the moano for bait (after something began to take the moano off the leaders) we caught a few small po'ou and more ta'ape. Finally using the ta'ape for bait we caught larger moano kali, po'ou and a'awa. Take home lesson: catch ta'ape for bait and *then* go fishing…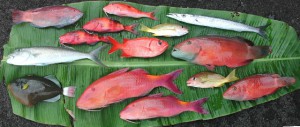 December 20, 2006 – Wednesday – I went out early this morning to do some light jigging with small plastic lures and light line (15# test) to get bait and warm up the old arms a little before breaking out the irons. My target was small goat fish which my mother-in-law enjoys eating. After about half an hour of slow action, I felt an initial light tugging followed by a real hit. Since I was using light gear, I made sure that drag wasn't too tight and just maintained patience. 15-20 minutes later I could see this large Omilu at the surface and was able to gaff it and bring it on board. Later I had it weighed at Suisan just to make sure of the weight which was 20#. The state record (using speargun, hook & line, whatever) is 25 1/2 # so I felt pretty good about this one…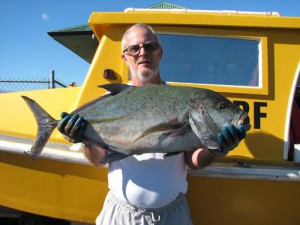 uly 4, 2008 – Friday – My friend Scott has a 21′ double hull that he fishes with, doing mostly trolling. But he likes kayak fishing a great deal as well. And he has a "new best friend" in Dick who is also a confirmed kayak fishing guy. So the two of them decide it would be really neat to load their kayaks onto Scott's boat, drive down the coast about 10+ miles, unload the kayaks and paddle around for ono (wahoo) beginning late in the afternoon at peak high tide. But who will take care of the boat? Yours truly. I agree to this madcap adventure and off we go.
It's supposed to be quite calm but in fact there are 10-15 mph winds so there is a little chop and small whitecaps. We leave the ramp at ~2:30 in the afternoon, troll all the way down with no hits, finally get to the spot and they begin fishing. The boat is drifting too fast for jigging at 300′ so I just play nursemaid for an hour and a half. That's OK. Better to keep an eye on them than lose them in the chop and dusk.
Well, at early dusk we re-load the kayaks onto the bow of the boat and get the luckless lads on board bodies unscathed and bait still virginal. Might as well troll on the way home, says Scott. He puts out the "long dong" first. Then as he's putting the second line out, the first one goes off! Reel in second line and after ~ 10 minutes Dick has brought the fish to boat side. In the frenzy, Scott commits a small gaff to the deep but his backup gaff does the job and he brings a 35# ono on board. We're happy right? Clean up the boat, put the fish in the fish bag, bring the boat up to speed and put out a fresh lure since the skirt on the first one has been trashed.
Same scenario. As Scott is putting out the second lure the first reel goes off. It's late dusk now but still plenty of light. I bring this one in and another ten minutes later a smaller ono, perhaps 20# is on board. Clean up, into the bag, etc. Scott sets the lures again. But this time we had to wait nearly 5 minutes before the first reel goes off again. I'm still in the chair so I try to take line in. It's really heavy, but since it's staying near the surface it's probably an ono rather than an ahi (yellowfin tuna). I'm guessing it's foul-hooked. Since I'm not making any progress even with the boat slowed way down, Scott puts the rod into the trolling slot and we spiral around the line to take up slack. 15 minutes later a 30# ono comes on board, foul-hooked though belly just behind the gills. So we were pulling a sea anchor around. At this point we agree that it is pretty dark and that no more lures are going out!
We head home at flank speed into near total darkness. Did I say that the two kayaks completely block visibility directly in front of the boat? So Dick and I look beside and above the cabin in order not to run into any small anchored boats that might be mackerel fishing near the harbor. Trying to get Scott to slow down a little is always a challenge but the two of us are finally able to get him to throttle back a little. We dock uneventfully (meaning it only took two tries to ease our way in) in spite of our two kayak handicap. It's now 8 PM and truly dark. But we have three fish and all our fingers and toes so it's a success by any measure.
August 8, 2008 – Friday AM, heading out the harbor by 6 and outside 6-mile by 7 – a leisurely drive. Slightly bumpy but a beautiful morning that would iron out nicely as the day went by. Chose my Shimano Trevala rod and Daiwa Saltist reel (where do they get these names?) and down went my "blissful blue" "Buxom" model jig once again to the bottom at 300+ feet. Hit bottom and began my "mechanical jig" retrieval and felt a bump after about two cranks. Three more cranks and it was party time. Twenty minutes later another 30-35# white ulua hit the deck. ( PM: Fish now disassembled and distributed to friends and family with some left for poke for us.) Then about 30-40 minutes later on a home-made jig (3/8″ square steel rod with some red and silver stick-on colors) a nice 5# uku hit, also in 300′ of water. Well, time to go home, right? Nah… Went inside to try to jig for opelu with flies suggested by Van but no joy. Mountains starting to heat up because by now the wind is zero and it's about 9-9:30 so time to head for home.
August 20, 2008 – Wednesday AM – Well, the knife jig didn't work, but the little stubby "buxom" one did once more…right outside target rock this morning in ~ 250-275′ water depth. Initially I thought it might have been an ahi. It just kept going down and taking line – ~600-700′ and into the solid color braid backing. But no place to go, right? So 15 minutes later up it came. 56 lbs weighed at Suisan. Home by 10 AM. Ciguatera test kit check negative so off we go…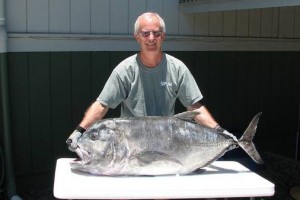 May 11, 2009 – Monday AM – Went out about 5:30 this morning to continue to practice with my new electric reel, this time for bottom fishing in 300-500′ water depth in front of the breakwall. A little more windy than I like but time to press on. Fished from 6-8 AM with only one small opakapaka which I carefully released back to the depths. Many baits sacrificed to the hage (triggerfish) alter… Wind started picking up a little more and the sea conditions were noticeably and interestingly different outside of the 50 fathom drop-off (some sort of current shear I suppose) – meaning uncomfortable outside with a little better inside.
So I decided to head in slightly and try jigging with the same reel. I must say that this is a different type of jigging. With a little liquid crystal readout screen to tell you the amount of line out, you can also read out the speed (meters/minute I think) of retrieve during bottom fishing or jigging. For the 5 oz. lures I use, I'm liking a 12-13 meters/minute retrieve with fast jigging.
In any case, there's been a persistent school of brown/black noddies at one location near the 50 fathom drop-off in front of the breakwall for the past few weeks. I think they're feeding on bait driven up by a school of keokeo (small tuna). When last I drifted near them, I believe the keokeo were the top predator school but underneath and in the surrounding areas were balls/schools of opelu. So it seemed like a good jigging opportunity. Last time I tried, kamasu/kawelea (Heller's barracuda) trashed about 4-5 of my jigs because I didn't have the jigs armored with a short trace of wire leader. Today I was ready, I hoped.
On the second drop near the school, I got a sizeable hit with several reasonable runs. I backed off the drag a little figuring that the fish had nowhere to go so why not be patient and let the reel do the work of taking up slack and so forth. This little reel didn't let me down in the least. When there was slack, I just thumbed the retrieve lever and up the line came much faster than I could have reeled. When the fish ran, I turned off the retrieve. Still fun but infinitely less work! Steadily the line came in and as I began to see color, I had something of a shock. It was a reasonable sized ono! I don't mind bringing ono into the boat, but usually the boat is moving and there wasn't any simple way that I could get the boat going and still control the fish. (Note to self: put the boat in slow idle forward when fish initially engaged) In this case, the ono was remarkably well behaved. It gradually came up to the boat and then turned belly up for gaffing and head bashing. Shortly later it was in the boat and as the pictures show, nearly with width of the floor area of my little boat.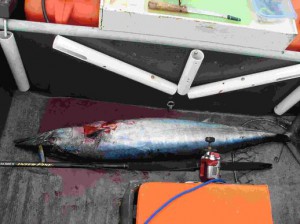 I was extremely lucky to catch this fish. The (barbless) hook was perfectly set in the corner of the fish's mouth, with the fish never exercising the option to cut the thin 40# test Sevalon trace in front of the jig. Nor did the fish get the chance to cut the short hook leader made from nylon braid. The jig itself took a small hit from the ono during the strike. The fish weighed out at 30 lbs.
By the end of the retrieve process, the wind had dropped to almost zero, the sun came out and it looked to be a beautiful day upcoming. It was 8:30 AM and time to head home – I'd only brought a small bag of ice and no sense wasting time letting the ono warm up. I stopped by Suisan Fish Market to pick up more ice and talk story with the boys there. A nice bunch of kids who were more than happy to help an old geek with filling and carrying his 48 quart cooler back to the boat. Lucky you live Hilo, yeah?
May 26, 2009 – Tuesday – Another day at the office…left the house about 5:15 AM since it's light so early and was heading past the breakwall half an hour later. Beautiful sunrise – somewhat like a Day's Inn poster because of clouds and vog, this orange ball slowly crawling upward through the sky. I deadhead down the coast about 12-14 miles toward Keaau Bay and arrive about 45 minutes later. I decide to put in an ono lure and drag it around for a little while before bottom fishing and jigging. So I proceed from one former ono hit, as shown on the GPS to several others with no results. But still the effort is worthwhile because I find 1-2 opelu schools at or near where I got ono hits earlier. After going halfway across the bay I turn around and head back to the location where I saw an opelu school a few minutes earlier. I rig up for jigging. Checklist: gloves, gimbal belt, Do-It flutter lure, a single de-barbed hook on the lower loop of the swivel attached to the surflon leader, gaff nearby, deck clear. On the third drop near the school I get a solid but not heavy hit. I make sure that the drag isn't too tight and take my time bringing the fish up. Happy surprise, it's a 7 lb kahala (Seriola dumerili). I'm happy because these fish are great eating but as they become larger – they can get over 100 lbs – the possibilities of ciguatera toxin at unpleasant levels is greater and their pasta-like parasite infestation becomes…unattractive. Fish of less than 15-20 lbs size are just right.
With dinner assured, I now head off to "Tracy's" – a spot marked from earlier expeditions – for some bottom drift fishing. There's rain all around me and finally a small deluge descends on me. I struggle into my rain pants and jacket only to have the rain stop and the skies clear 10-15 minutes later. O.K. De-suit and begin fishing with cut squid and wire leaders, possible protection against "the toothy ones". In a little while I've landed a large po'ou (Oxycheilinus unifasciatus, picture below) and 4 good sized moano's (Parupeneus multifasciatus). Then everything dries up and no more bites for the next half hour.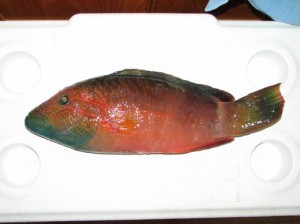 With nothing to lose I head out to slightly deeper waters where there's a drop-off at about 300′. Time to break out the electric reel so I put away the smaller spinning reel and rod and connect the Shimano Dendou Maru 3000 Players (where do the Japanese get these names?) reel to my deep cycle 12 volt battery, put on a bottom-weighted jig for deeper water and have at it. On the second drop near the bottom I get another good hit and give the rod a couple of tugs to set the barbless hook. I still don't trust the electric reel for hauling my catch up completely through the water column so I use the reel handle and again…take my time. What comes up is a really nice 12 lb white ulua (Caranx ignobilis) which is another great eating fish for poke especially. Since I only brought two bags of ice and keeping fish well preserved is a high priority for me, I head home. It's only 9:30 but that's O.K. It's better to preserve the catch and not beat myself up trying to get more fish I don't need at this time.
I drop off the kahala at a friend's house on the way home. He's a little out of commission at the moment and can't fish but loves to eat fish, so… Helen's mom will love the moano and half of the ulua and we'll have the po'ou for dinner and the rest of the ulua for fry and poke. Some days you can't keep fish out of the boat and others they don't know your name. Last time I went out, after 5 hours of jigging all I brought home was the ice I'd taken out!